By Dr Carlos Madrigal- Iberri
After a deep, thoughtful and intelligent meeting, here are my insights regarding the COVID-19 narrative sessions with Dr. Nabarro, from 19th May, 2020. The opinions expressed in this text will appoint to two main topics: The importance of following the WHO recommendations against COVID-19 crisis and the significance of look after the most vulnerable ones (countries, persons, workers).
The 73rd World Health Assembly took place virtually with many world leaders working towards a resolution to bring the world together to fight the current pandemic. Over the session, countries were praised for the quick response to face the crisis, for mobilising essential equipment to poor countries and to support new ventures for research & develop an effective vaccine and new therapies.
Despite the willingness and sense of collaboration shown by most countries, one particular country showed disagreement with WHO along with accusations, making intergovernmental progress extremely difficult.
As a medical professional dedicated to public health, I find it embarrassing for the entire world that one of the richest countries in the world, decided to start an investigation instead of following and implementing the WHO guidance to protect their citizens. The actions of one world leader will have a massive effect in other countries and the consequences are, in my view, scandalous.
Mexico, Brazil and the UK are facing the worst time of this pandemic due to what appears to be stubbornness of their leaders, and we can assume many people are dying unnecessarily due to their figureheads´ recommendations and decisions. Let's take Mexico as an example, whilst Dr. Tedros' recommendations are to test as many people as possible, the Mexican government implemented the Sentinel surveillance model, leading it to be the last country in the OECD regarding the number of diagnostic tests per habitants. I believe this has contributed to why the country is facing a major health crisis and insufficient data. Especially in the context that the Mexican population has high rates of obesity and diabetes, underlying conditions, which put people at major risk of death and complications from COVID-19. On top of this, about half of the population lives in poverty and rely on the informal economy through street sales, working as plumbers, gardeners, and taco vendors. As of May 21st, Mexico reached 454 new confirmed COVID-19 deaths in one day.
While the entire world is flattening the curve, Mexico, Brazil and UK are rising in the number of deaths due to what I would describe as, their governments' inefficient actions.
Significance of look after the most vulnerable ones.
Nations are getting ahead of the virus, particularly in places that have been able to follow the WHO recommendations. Singapore, Colombia, Costa Rica and South Korea are great examples of societies that faced the pandemic with an adequate organised response using clear guidance. At this point of the crisis, the economies of these states look to be thriving again because they concentrated all the efforts to the first piece of advice: Make it hard for the virus to transmit from person to person. Knowing that their healthcare systems were not prepared to face this sanitary emergency, they used every strategy available to get everybody involved and aware that this threat needed changes in the current behavior regarding social distancing and adequate hygiene. They also put many efforts in early detection of symptoms and prompted the isolation of cases and tracing of contacts in order to stop transmission.
The main learning of these countries is that: this pandemic is about people! That is why the world leaders and employers need to protect the lives of people at risk, especially poor people. Those who cannot keep distances, those who lives in confined spaces, and those who work in small places. Everyone should take care of healthcare workers, women, and older people. The cessation of movement should be done as quickly as possible and with extreme precautions, particularly in poor countries, otherwise people will not have money, the food will be insufficient and malnutrition will increase.
Once the lockdown is over, the entire world needs to be prepared for a new mindset where people are at the center of the equation. We need to support scientists; employers need to reinforce practices in works so their employees will not get COVID-19.
Despite all the measures taken, the virus will not disappear soon, therefore we must deal with the idea that many will die and we need to be comprehensive enough to support the long illness, the depression associated with grief and the fact that persons who recovered from COVID-19 will have some sort of lung damage, so they will be short-breathed for some time.
The world after this pandemic needs to be a better place where we take care of each other and provide support to those who need it most.
In order to overcome the adversity, we need to work as one; there is no place to withdrawn funds, to hesitate in efforts, to put personal interests over people lives. Poor countries cannot strengthen their health systems unless the rich countries provide help. Humanity cannot improve if we still fight for ideological reasons or political parties. We need to lead for people and stop to create divisionism, and we need to do it fast. We need to do it now.
---
Follow Salvando Latidos on Social Media @salvandolatidos
Follow One Young World on Social Media @OneYoungWorld
---
About this 4SD Reflection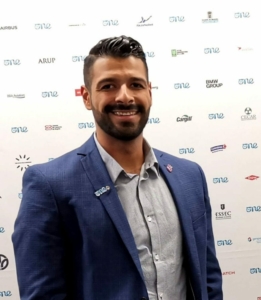 This article is a reflection by Dr. Carlos Madrigal- Iberri following the COVID-19 Open Online Briefing of Dr David Nabarro on 19 May 2020. It forms part of a collaboration between 4SD and One Young World to inspire greater systems leadership amongst youth during the COVID-19 pandemic.
Carlos is a Medical Doctor & One Young World ambassador who is deeply committed to Global Health. He serves on the Board of Salvando Latidos a non-profit organization, which provides free medical care to low income populations; during this pandemic, they are fundraising to provide protective personnel equipment for hospitals facing COVID-19 in Mexico. He has also been actively working for Novartis Mexico to bring to public agenda Chagas Disease, which is one of the 17 Neglected Tropical Diseases determined by World Health Organization and the second cause of heart failure in Latin America.
Carlos states, "In order to make a difference in public health, the world needs people that are willing to join forces to make this problem a part of our past, and not a new threat to our future".
COVID-19 Open Online Briefing #17
Tuesday, 19 May 2020
17:00 – 18:00 CEST
The views and opinions expressed in these reflections form part of the collaboration between 4SD and One Young World to inspire greater systems leadership amongst youth during the COVID-19 pandemic. They do not necessarily reflect the official policy or position of 4SD as an organisation or it's associated personnel. Any content provided by authors are of their opinion and are not intended to malign any religion, ethnic group, club, organization, company, individual or anyone or anything.
One Young World (OYW) is the global forum for young leaders. OYW identifies, promotes and connects the world's most impactful young leaders to create a better world, with more responsible, more effective leadership. The annual OYW Summit convenes the brightest young talent from every country and sector, working to accelerate social impact. Learn more about OYW at https://www.oneyoungworld.com/