Communicating Science with Policymakers: From Stats to Stories
Based on a presentation given by David Nabarro at an Imperial College seminar on 21 February 2022 on 'Communicating Science to Policymakers', this narrative was written up by Mihika Acharya, Communications Officer at 4SD.
COVID-19 is an infectious disease caused by a virus that is easily transmitted between people. Outbreaks of COVID-19 are contained by preventing the virus from moving from person to person. As efforts are made to reduce the risks to populations, ways to encourage specific behaviours are considered.  In some settings, mandates for vaccination, wearing masks, physical distancing, and isolation, are being considered.  Yet decisions about the control of COVID-19 are never straightforward.  The virus is new and there is much that is not known both about its behaviour in populations and its impact on people.  What we do know is that the people worst affected by the virus are those who are vulnerable and the poor.
When decisions are made about how best to minimize threats posed by the virus, decision-makers need to know how it moves within populations, the risks and consequences associated with infection, and the effectiveness of preventive measures. This is the focus of efforts among scientists in different countries: their efforts are analysed by the World Health Organization (WHO) and used to develop the WHO's recommendations.
Collaboration between scientists and policymakers
Responses to infectious disease outbreaks are best devised and delivered through public health systems that function well and adapt to changing circumstances.  The underlying values of public health should always be explicit. In my view these are about enabling all people to be as healthy as possible throughout their lives through offering health care that responds to their needs, with a focus on people who are hardest to reach and on leaving no-one behind.  This means connecting and partnering with those who have differing perspectives on how best to contribute as the pandemic is continuing to advance, wave by wave, across the world.
Multi-stakeholder collaboration with scientists and specialists can make the act of influencing policies more effective when they ensure that the well-being of all people is their central concern. Specialists may seek to position themselves as politically neutral, but most find that this is, in practice, just not possible.  Understanding the political context and navigating power asymmetries is vital in working towards restoring agency to persons who feel diminished or seeking to examine issues that have been set aside.
Specialists and decision-makers interact best for public health when they ensure that people are kept at the centre of all decisions.  For me there are six words that illustrate what this might mean in practice: cadence, consistency, connection, credibility, contracts, and conviction.
Cadence
Specialist advisers and decision-makers work best when they are adept at feeling into the pace and rhythm of their work, sensing whether things are ready to move or not. This means that – when they are together – they should seek to meet each other where they are and be comfortable with holding contradictory points of view.
Consistency
Being consistent when given a chance to communicate doesn't mean maintaining a fixed opinion when it is not warranted. It does, however, mean making a point of being transparent, offering reasons for changes in position, and providing evidence to support them.
Leaders make difficult decisions every day.  They have to balance people's health and well-being, the state of the economy, and the political space for shifting position. This will diminish when there is fatigue with responding but making quick decisions is part of the process and leaders must be vigilant and ready to re-evaluate and adapt those decisions if they notice things are not going to plan.
Connection
The steps involved in implementing public health directives are never straightforward: the implications of the directive must be spelt out clearly to make it understandable for different audiences.  This is where it may be difficult to combine the approach of the scientist and the belief systems of different groups of people.  If belief systems are influenced by ideology the interaction between science and politics can emerge as an issue:  it is important that all who communicate are authentic. This is where narrative and stories can help: they may better connect science and people than statistics and charts.  The narratives help with putting issues into context.  Here are some narratives which I use now: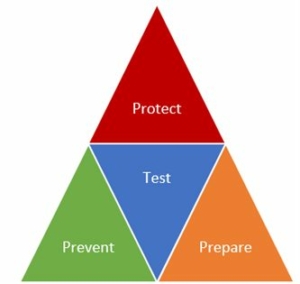 1. When looking ahead, it is important to protect the vulnerable, prevent transmission and prepare for surges: This is a virus that is affecting everyone everywhere. It is a global issue. When thinking of public health policies, equity matters.
As with any kind of infectious disease, the starting point is to prevent people from being infected. We know that Public Health Social Measures prevent the transmission of the virus. Face-masking in closed or crowded spaces, frequent handwashing, ventilation, and fewer social interactions help prevent people from being infected.
The second is to protect those who are exposed from being seriously ill and dying. Vaccines have separated disease from death and help protect vulnerable populations. Immunity from vaccines seems to wane after six months or earlier depending on the person's age or the type of vaccine they received. Keeping up to date on being vaccinated helps protect people from more severe symptoms, and even death.
Thirdly, surges seem to occur every three or four months. The window of time between surges is a moment to be used to prepare by putting systems into place at local, regional and global levels. During this time, listen to health workers who know what is happening and where it may lead. Bring together all stakeholders so they are well-integrated around a shared plan. Engage the people in their communities, connecting with them where they are, and to fill gaps in the response.
2. When planning responses, everyone involved should remember that the virus is the problem, and the people are the solution: Transmission starts and ends in communities. Responses should be locally integrated with central direction based on expertise and experience.
3. As the pandemic evolves all people are called on to be partners in the response: There are bound to be people with diverging perspectives. Avoid stigmatizing and demonizing any group even if they are a small number. Stigmatizing only pushes people further away and undermines social cohesion.
Credibility:
Scientists and policymakers need to earn people's trust to be effective.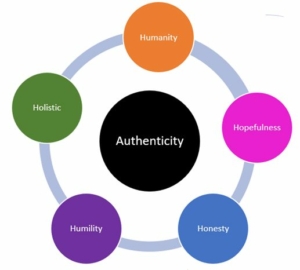 When dealing with COVID, the first part of being authentic is being clear that this virus is not going away anytime soon and threatens all of humanity. It is global and encompassing and we must ensure that no one is left behind.
People need to respond to COVID in a holistic way. The truth cannot be arrived at by only viewing its separate elements. Mandates and lockdowns on all people everywhere have had catastrophic effects in some cases and has had a knock-on effect on a vast spectrum of communities economically, politically, and also psychologically.
Thirdly scientists and policymakers need to avoid making any false promises or pledges. They need to be honest with people, and this matters when seeking to build trust. As the pandemic has evolved the world is faced with an infodemic. Misinformation has generated mistrust between people, as well as between people and governments.
Fourthly, the virus is new and there is so much that is not known. There is uncertainty about what variants are going to come next, or how they will behave. Being humble about this virus – acknowledging that there is so much which is not known and that scientists have to collaborate across national boundaries to help societies work their way through it.
Finally, being hopeful matters. My personal hope is that humanity will emerge from this pandemic a lot better, with a greater understanding of how to deal with multiple threats – including destruction of nature, mass migration, violent conflict, and more. Much ingenuity is needed for people to tackle them together, especially in poorer settings.
Contracts
Professionals involved in responding to COVID need to be clear with different audiences on what is at stake and what is important. The pandemic is still advancing.  The virus itself is changing. It is affecting people, businesses, governance, and nations. It is causing massive suffering. It is not going away anytime soon. After infection or immunization, individuals have some immunity but this fades over time. People should act in ways that prevent transmission and keep the virus at bay.  Concerted investment in a worldwide response is of vital importance, now more than ever: fragmented responses are less effective.
Multistakeholder platforms are established to inform integrated, people-centred responses.  Interdisciplinary scientists are welcome because their engagement permits deeper connections among diverse actors and stakeholders, especially if they focus on people as well as disease, and on connecting science with decision-making.  This can strengthen the 'contract' between society and the State and take trust and partnership to a new level.
Conviction
We have come a long way since the coronavirus was first discovered. We have adopted good habits to protect ourselves and to shield others. We have gathered tools and know what is required to fight this virus. We have seen communities come together and we have seen people connect with each other in beautiful ways.
There is hope for us to emerge from this as a more unified collective, and it all depends on how we manage this problem together with a concerted effort to increase levels of both political engagement and global investment.
The consequences that the pandemic has had on all other systems will only start to become apparent in about ten years' time. The failure for concerted economic and political investment in an equitable response would leave us cleaning up the pieces for not just one decade but more realistically, for closer to two decades. Part of the learning curve of working in the science-policy interface involves finding out that we have made mistakes and then finding ways to do better. To do better, sometimes, it is necessary to think about the context within which scientific expertise is being offered.
I urge every scientist and specialist who has the opportunity to work with decision-makers, to make their voices heard in every possible avenue. It is still not too late for putting people back in the centre of the context.  It is people – how they behave, what they believe, and what they are prepared to do together- that could make all the difference. Only with people as partners can we protect those who are most vulnerable, prevent transmission of what is a dangerous virus, and prepare our systems for further surges, after all, it is the virus that is the problem, and people that are the solution.
https://4sdfoundation.org/wp-content/uploads/2022/05/policy.jpg
755
1289
thuy.nguyen
https://4sdfoundation.org/wp-content/uploads/2023/03/Logo-white.svg
thuy.nguyen
2022-05-06 16:05:04
2023-05-10 12:34:33
Communicating Science with Policymakers: From Stats to Stories