Supporting Local Voices and Dialogues for Food Systems in the USA
Following a massive year for food systems globally, 2022 has been monumental at the national level for the United States with the Biden-Harris Administration Conference on Hunger, Nutrition, and Health. For the first time since 1969, the US government had a watershed moment to focus on catalyzing the public and private sectors around a coordinated strategy to end hunger for millions and Americans, improve nutrition and physical activity, and close the disparities surrounding them.
4SD was proud to partner with Food Systems for the Future to mobilise efforts in the lead up to the Conference. Notably on launching the Good Food Dialogues concept and Platform, which was established to drive national efforts to energize and empower communities around grassroots solutions to the nation's hunger crisis and improve federal policies to more equitably address hunger, nutrition and diet-related disease needs.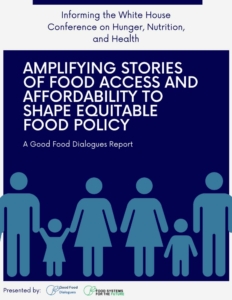 The Good Food Dialogues Report
Amplifying Stories of Food Access and Affordability to Shape Equitable Food Policy, memorializes the thoughts and recommendations from a diverse group of stakeholders who are invested in reducing food insecurity and the rate of diet-related diseases in the United States.
All the themes, identified barriers, and proposed solutions in the report were  synthesized from more than 700 participants in the Good Food Dialogues (GFD) project and were submitted to the White House ahead of the Conference on Hunger, Nutrition, and Health on September 28, 2022 to inform the policy conversations taking place in Washington D.C.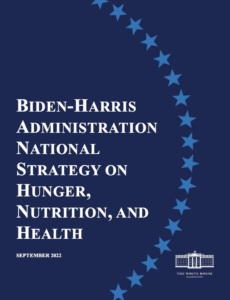 The White House Strategy
The National Strategy details actions the federal government will take to drive solutions to hunger, nutrition, and health challenges. The Biden-Harris Administration has also released a fact sheet detailing more than $8 billion in new commitments as part of this Conference's call to action. Read the fact sheet to learn more.
In the remarks made by President Biden at the Conference, he states, "I've released a national strategy to meet that bold goal.  The strategy that — has three key — three key principles. First, help more Americans — I'll say this again — help more Americans access the food that will keep their families nourished and healthy.  A lot of food deserts out there. Second, give folks the option and information they need to make healthy dietary choices. Thirdly, help more Americans be physically active.  People want to be; lots of times of times there's no places to go to be active from where they live."
 Watch: An introduction to the Good Food Dialogues, including opening remarks from Ambassador Ertharin Cousin, Founder and CEO Food Systems for the Future.
To learn more about the Conference and the Good Food Dialogues, follow these related links:
https://4sdfoundation.org/wp-content/uploads/2022/10/Good-Food-Dialogues.jpg
741
1500
info
https://4sdfoundation.org/wp-content/uploads/2023/03/Logo-white.svg
info
2022-10-04 13:05:21
2022-10-04 13:09:40
Supporting Local Voices and Dialogues for Food Systems in the USA