Talking Food Systems and Inspiring Change at Harvard University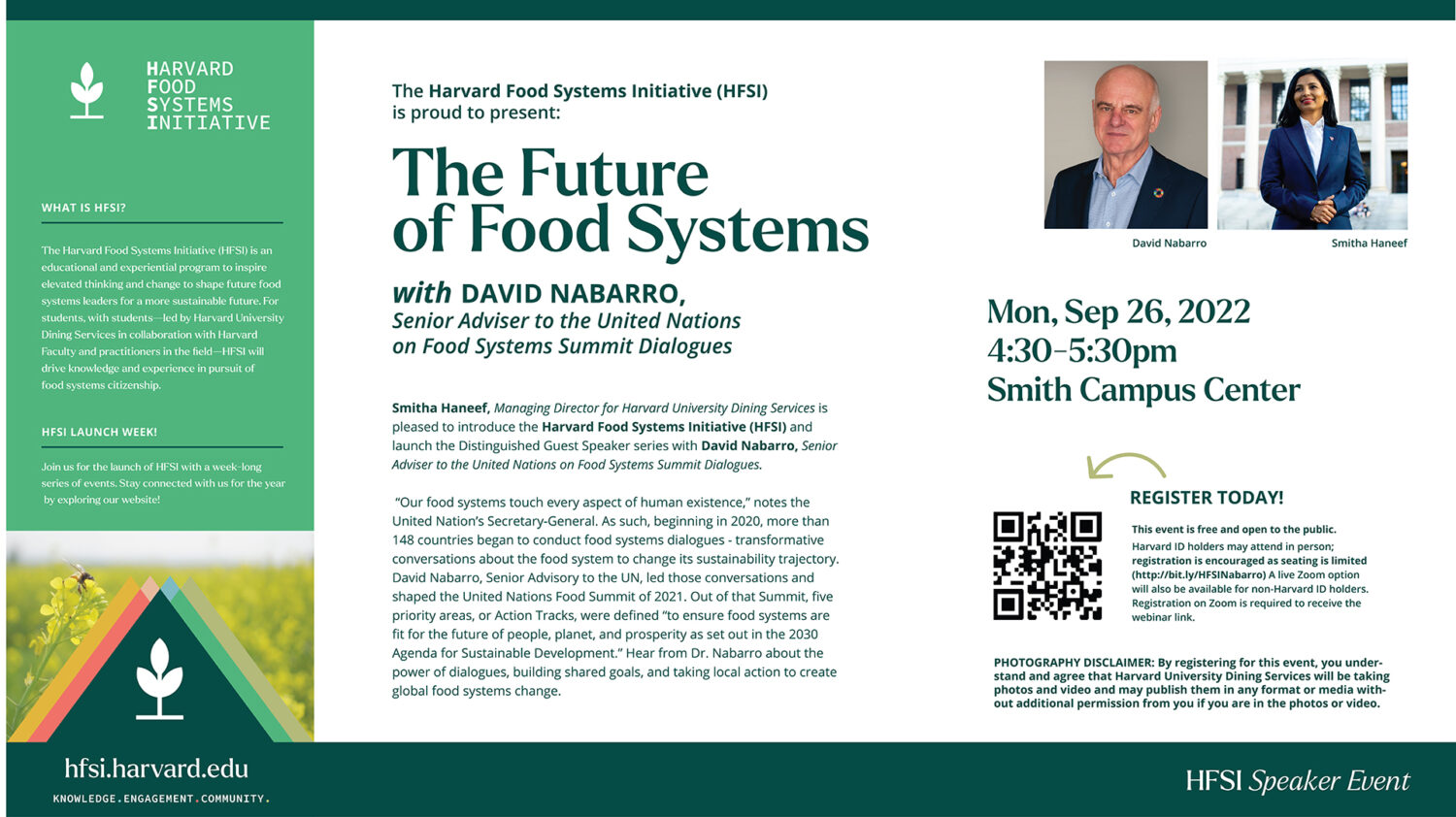 Thanks to the Harvard Food Systems Initiative (HFSI) led by the Harvard University Dining Services in collaboration with Harvard Faculty and practitioners in the field, 4SD Strategic Director, Dr David Nabarro presented his view of the Future of Food Systems at an event on campus on 26 September 2022. The event was free and open to the public both in-person and through a zoom webinar. Attended by various faculty members and students from across various disciplines, the event played a key role in sharing knowledge and experience about food systems to further the mission of the HFSI education and experiential program.
The presentation was followed by a multi-stakeholder dialogue which brought together people from across the food chain – including food production, preparation and consumption. Many diverse perspectives and roles held by the participants meant discussions could lead in many directions. Nevertheless, there was one resounding consensus:  we are dissatisfied with the status quo and we can collectively "do better".
Read the corresponding article, "Healthier options for people, planet", where Harvard Correspondent, Gray Milkowski, learns about the HFSI from co-chairs Walter Willett and Smitha Haneef.
"I hope that HFSI will serve as a common place for knowledge exchange, knowledge generation, and community engagement." 

— Smitha Haneef
Watch: The Future of Food Systems with David Nabarro.
4SD commends Smitha Haneef, Managing Director for Harvard University Dining Services, and her team for designing these events as part of the HFSI. They are creating spaces for collaboration, and enabling people, regardless of their status, to recognise and realise their role in changing the food system, for the better.
—
For more information about the HSFI, visit hfsi.harvard.edu.
Follow @HUDSinfo and @4sd_info on twitter to stay up-to-date on the follow up from the events.
https://4sdfoundation.org/wp-content/uploads/2022/09/Screenshot_20220927_235413.jpg
586
878
thuy.nguyen
https://4sdfoundation.org/wp-content/uploads/2023/03/Logo-white.svg
thuy.nguyen
2022-09-27 16:02:07
2022-10-04 13:12:27
Talking Food Systems and Inspiring Change at Harvard University