We listen, we learn, we care and then we act

By Miles Bredin.
David is an old friend and colleague of my wife, Jo Nickolls. They worked together on ebola. When I practised for COVID-19 by very nearly dying of H1N1 in 2019, David used systems leadership to harvest a huge honeycomb of knowledge and contacts to help save save my life; Katherine, another member of the 4SD team, once lent us her house for Christmas…
I joined the online briefings in the context that these were good, inspiring, clever people but also wanting to know as much as possible about covid-19. Little did I know that 4SD would guide my thinking on so many broader issues.
Inspired by David, John, Katherine, Thuy, Julien and Florence we have been able to refine our strategy at my company, Well Made Strategy , so that we are now acting with purpose in all that we do. We are a social enterprise and have only ever worked with partners doing great work, turning down jobs with people with whom we disagree. The need for social justice and equity guides all our work. But, ours is a weird case: we provide strategic communications advice in many disparate fields. Indeed we market ourselves on the basis that we are not specialists in anything save communications.
We don't act for people – like a PR company – we help our clients to act for themselves. As well as private business, we work on learning, health, SGBV, the environment, human rights; the list is endless. Basically, if someone's doing something good, we help them to do it better. How therefore could we define our purpose?
The blog below tells the story of how our team decided the climate crisis was something we could address with all our partners, setting the example ourselves and helping them to join us. We hope it inspires you to define your purpose and act upon it.
Please have a look and share far and wide.
Free books! Competition!
By TEAM WMS (originally published on LinkedIn)
Well, we made it to February! And if the last year has taught us anything, it is that we must all play our part. The covid-19 response is all about our own personal contributions to the bigger system, our responsibility each to act for the good of others. We must work together to thrive and if we all do our part, things will get better!
That applies to individual people wearing masks to protect their fellows and it applies to governments supporting Covax to protect their fellows.
Somewhere between washing our hands, physical distancing and wearing masks, we were hit by an insight! The exact same thing applies to the climate crisis. Only thirty years late…
As the US once more accepts its climate crisis responsibilities, so must we.
While WMS has a great record of working with organisations on the environment, covid-19 has helped us to rethink our approach and make it more intentional. Last year WMS partnered with many diverse organisations working on their covid-19 response and we saw that while, like the pandemic, the climate crisis affects all aspects of human life, our environmental work at WMS was siloed when it should be infiltrating all that we do. We did great work on climate with Future Earth but how did our work with the Regional Education Learning Initiative tackle the climate crisis?
The world now understands that health care is a security issue. So is the climate crisis. And the climate crisis is a human rights issue, an education issue and an equity issue too.
We know that covid-19 is worse in the rest of the world than it is in Africa – but I'm afraid we are catching up – and yes, we know that the rest of the world is a greater greenhouse gas contributor than we are. Neither fact should stop us from trying to address the crisis for ourselves. And in March last year we were lucky enough to find a guide – Dr. Myriam Sidibe. It has been an eye-opening partnership!
Working with Unilever and UNICEF, Myriam Sidibe has spent decades designing handwashing behaviour change programmes that have reached over a billion people across the globe. And as the world began to plan the covid-19 response all eyes turned to the world's first doctor of handwashing.
Myriam approached WMS for help with the launch of her book at the start of the pandemic, just as she co-founded the Nairobi Business Compact to address covid-19 in Kenya. She has written a how-to guide that rivals in practicality our own Communications for Social Change Handbook.
Myriam's book Brands on a Mission encourages organisations in both the public and private sector to go beyond having a purpose to living that purpose and what's more: it shows us how. Working with Myriam helped us figure out how to use the Sustainable Development Goals to reorient our work on climate.
We feel strongly about positive social change, so we choose our partners as much as they choose us and we have had great success helping all sorts of organisations – business, human rights, child protection, learning – to reach their goals. For years – as many of our partners will remember – we have been teaching how clever the United Nations Environment Programme was at getting the environment into so many of the Sustainable Development Goals. Now we will do it too.
This year at Well Made Strategy we will be expanding our Environmental Social and Governance communications practise and urging all our partners to put the climate crisis at the forefront of their planning. We'll be reducing our carbon emissions and addressing the climate crisis in all our work.
To embed the climate crisis in all that we do we will be using advice on systems thinking and leadership from the WHO Covid-19 Envoy Dr. David Nabarro and his team at 4SD. As they teach at 4SD, you need to identify all the players in a system, then work out how they relate to each other. To start on that we are launching a competition. In time this will help us to "understand and quantify the impact of those relationships on each other and on those outside the system".
We commit to going beyond caring about the climate crisis to embedding climate work in all we do.
This will allow us to address equity, justice, nutrition, disability, learning, even female genital mutilation and all of the other issues that drive our work.
Of all the issues that we address daily at WMS, we have found one we are passionate about that can further all our other concerns. And Myriam Sidibe has taught us how to incorporate this into our work.
As we set out, we think you should all know Myriam! So, we're giving away ten signed copies of her book to people who can best describe what they feel passionately about and what they're going to do about it.
Dare you tell us?
Follow us @WMSComms and tell us in a tweet what you are passionate about. Tag it #vision21.
And if you're outside Kenya, we'll send you an e-book.
---
About this 4SD Reflection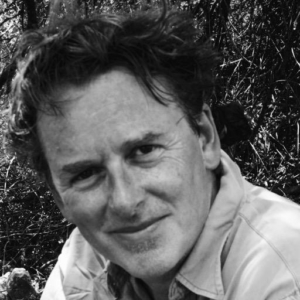 This article is a reflection by Miles Bredin following the COVID-19 Open Online Briefings of Dr David Nabarro.
Miles is a bestselling author and former foreign correspondent. He was United Press International's last East Africa Bureau Chief and private sector strengthening advisor to the Afghan Minister of Finance. He was a Paul Mellon Fellow at Yale's British Art Center and has written a number of books. Miles set up Well Made Strategy with Rob Burnet, founder of network of social ventures Shujaaz Inc in 2009. Well Made Strategy has devised and implemented communications strategies across Africa and beyond.
The feature image is a COVID-19 campaign in Kimaa (Maasai language) by Well Made Strategy and friends at Shujaaz and the Africa Educational Trust which were distributed in Tanzania and Kenya.
Participants of the COVID-19 Open Online Briefings are invited to share their reflections on how they are navigating complexities from their own perspectives. The views and opinions expressed in these reflections are intended to inspire greater systems leadership during the COVID-19 pandemic. They do not necessarily reflect the official policy or position of 4SD as an organisation or it's associated personnel. Any content provided by authors are of their opinion and are not intended to malign any religion, ethnic group, club, organization, company, individual or anyone or anything.
https://4sdfoundation.org/wp-content/uploads/2021/02/Shujaaz-Poster-1-855x1024-1.jpg
1024
855
thuy.nguyen
https://4sdfoundation.org/wp-content/uploads/2023/03/Logo-white.svg
thuy.nguyen
2021-02-03 09:38:11
2023-04-28 14:13:38
We listen, we learn, we care and then we act